Pokemon Alakazam EX illustration Art Card 151 RARE CRIMPED DEFECT MISPRINT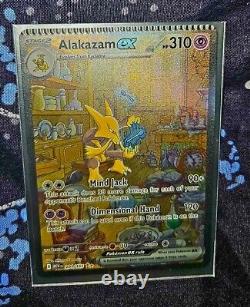 This Alakazam EX 151 card is a rare find for collectors of misprints. The card features a crimped edge, adding to its uniqueness and rarity. Its condition is near mint or better, making it a valuable addition to any collection. As an ungraded card, this Alakazam EX 151 allows for more flexibility in terms of grading and pricing. Its misprint feature makes it stand out from other collectible card games.
Don't miss out on the opportunity to own this rare card for your collection. One of a Kind item.