Base set Pokemon Cards. 1st Editions, holo's, charizard, rare. 215 cards. (Read)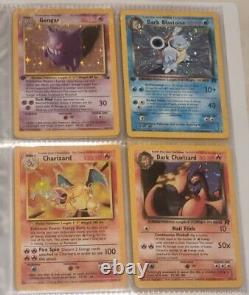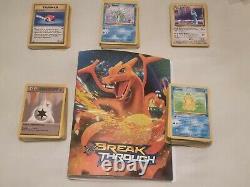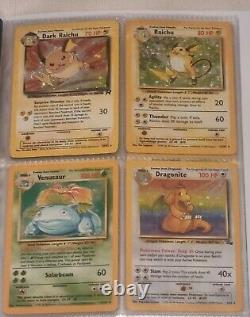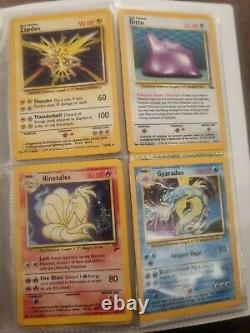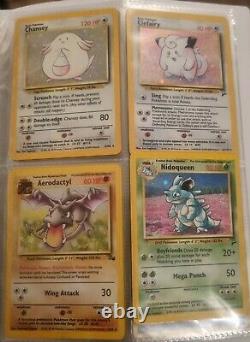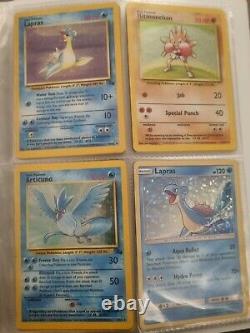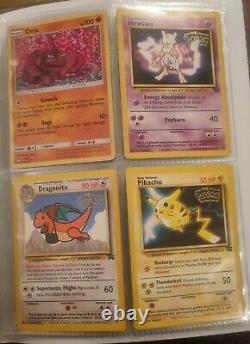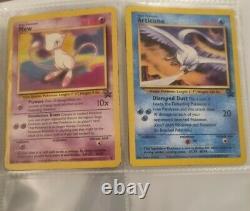 These 4 main value cards are in excellent condition as were stowed away in a flat folder as pictures show. Please see the below list for all of the cards for sale in this listing. These are listed as used as some of the cards show signs of deck wear as was expected for their age. The more important cards were stowed away.
Potential for 4 main value cards to be graded for better value. 10 yellow energy base set cards. 2 brown 4th wave (1999-200) energy cards. Base set 1999 trainer cards: x2 switch, x3 potion, x3 gust of wind, x2 bill. Jungle: x2 poke ball (1999).
Base set 1999 trainer cards: x2 super potion, 1x defender, 1x maintenance, 1x professor oak. = 3x abra, 1x abra 4th wave, 3x weedle, 2x charmander, 1x magnemite, 1x diglett, 1x bulbasaur, 1x doduo, 1x doduo 4th wave, 1x machop, 1x vulpix, 1x vulpix 4th wave, 2x staryu, 2x drowzee, 1x ponyta, 1x bulbasaur, 1x gastly 4th wave, 1x gastly, 1x voltorb, 1x rattata, 1x pikachu, 1x squirtle, 1x onix, 1x nidoran 4th wave. = 1× pidgeotto, 1x electabuzz, 1x Dragonair.
= Charizard, Venusaur, zapdos, chansey, hitmonchan, Gyrados. = 3x jigglypuff, 1x oddish, 1x venonat, 1x goldeen, 1x cubone, 2x pikachu, 2x exeggcute, 1x nidoran, 2x meowth, 2x rhyhorn, 1x mankey, 1x spearow, 1x paras, 1x bellsprout.
= 1× persian, 1x gloom, 1x nidorina, 1x butterfree, 1x seaking, 1x marowak, 1x scyther, 1x Tauros. X2 wiggleytuff, 1x jolteon, 1x vaporeon, 1x pinsir, 1x pidgeot. = 1x zubat, 1x slow poke, 1x kabuto, 1x shellder, 1x krabby, 1x geodude, 1x horsea, 1x psyduck. = 1x moltress, 1x Articuno. = Gengar 1ST Edition, Drogonite, Lapras, Aerodactyl, Articuno, Ditto. KIDS WB PRESENTS: mew two no:3 card, pikachu no:4 card, Dragonite no: 5 card.
2019 McDonalds promo card: lapras holo and Onix holo. The item "Base set Pokemon Cards. 1st Editions, holo's, charizard, rare. (Read)" is in sale since Tuesday, September 21, 2021.
This item is in the category "Collectables\Collectable Card Games\CCG Individual Cards". The seller is "silkyvick" and is located in Manchester.
This item can be shipped worldwide.
Graded: No
Rarity: Holo Rare
Set: Base
Game: Pokemon
Character: Charizard
Card Name: Charizard
Custom Bundle: Yes
Features: 1st Edition
Year Manufactured: 1999
Card Type: Pokemon