Huge Lot 16000+ Pokemon & Yu-gi-oh Trading Cards Holos Rares Jungle Fossil Base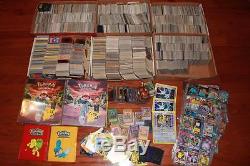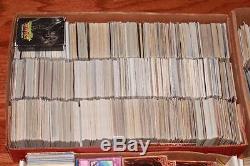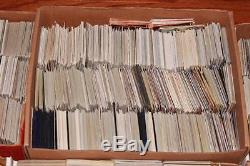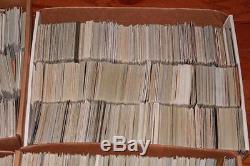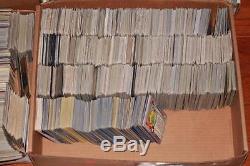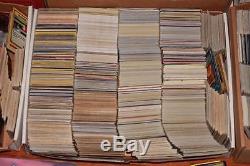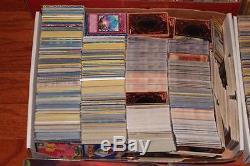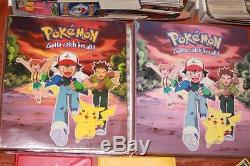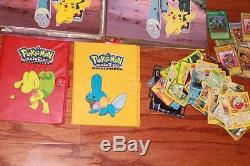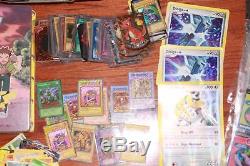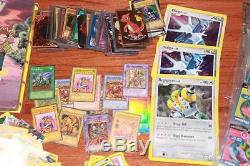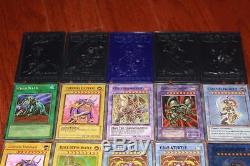 ESTIMATED TOTAL CARDS OF 16,000 - 20,000, THIS ESTIMATE WAS BASED ON MEASURING TOTAL STACKS OF CARDS IN THE LOT AND I WOULD ESTIMATE 18,000 BEING A GOOD NUMBER FOR HOW MANY ARE INCLUDED BUT IT IS STILL AN ESTIMATE!! MAJORITY IN THE LOT INCLUDES MIXED POKEMON AND YU-GI-OH CARDS - THERE ARE SEVERAL OTHER CARD TYPES IN THE LOT BUT A MUCH, MUCH SMALLER AMOUNT IN TOTAL - MOST ARE POKEMON AND YU-GI-OH WITH GOOD MIX OF BOTH - INCLUDES TONS OF RARES, HOLOS, HIGH LEVEL YU-GI-OH CARDS, ORIGINAL POKEMON CARDS FROM BASE SET, JUNGLE, FOSSIL, AND MUCH MORE, WAY TOO MANY CARDS TO SORT/DETAIL, VARYING SIGNS OF WEAR INCLUDING LIGHT PLAY, MODERATE PLAY, HEAVY PLAY, AND DAMAGED CARDS, WEAR MOST LIKELY FROM STORAGE W/ MOST CARDS HAVING LIGHT EDGE/CORNER WEAR, COLOR WEAR/LOSS ON OUTER EDGES OF CARDS, ETC. SOME WILL BE DAMAGED AND HAVE HEAVY WEAR, PLEASE SEE LISTING DESCRIPTION FOR ALL PICTURES AND DETAILS!
HUGE LOT 16000+ POKEMON & YU-GI-OH TRADING CARDS HOLOS RARES JUNGLE FOSSIL BASE. MASSIVE MIXED TRADING CARD LOT AND ONE OF THE BIGGEST LOTS YOU WILL FIND ONLINE!! - PLEASE SEE ALL BREAKDOWN DETAILS BELOW: OVERALL REVIEW: MASSIVE MIXED TRADING CARD LOT - INCLUDES 6 FLATS FULL OF CARDS, BINDERS WITH CARDS, LOOSE SLEEVES WITH CARDS, CARDS IN HARD PLASTIC PROTECTIVE SLEEVES, CARDS IN THIN PLASTIC SLEEVES, ETC. MAJORITY OF CARDS WILL INCLUDE POKEMON & YU-GI-OH - PLEASE KEEP IN MIND THIS IS AN UNSORTED AND UNSEARCHED LOT SINCE OBTAINING EVERYTHING!!
- THE ONLY SEARCHING I'VE DONE IS TO PULL OUT SOME CARD STACKS STRICTLY FOR PICTURE PURPOSES, AND PROVIDE BUYERS WITH LITTLE MORE DETAIL FOR OTHER CARDS THAT WERE NOTICED IN THE CARDBOARD FLATS - I'D ESTIMATE 80% (MAYBE MORE) BEING POKEMON & YU-GI-OH BASED STRICTLY ON INITIAL FLIPPING THROUGH THE ROWS OF CARDS IN EACH BOX - THIS IS PURELY AN ASSUMPTION BUT THERE DOESN'T APPEAR TO BE A MASSIVE AMOUNT OF OTHER SERIES INCLUDED POKEMON CARDS INCLUDES ORIGINAL BASE SET, BASE SET 2, JUNGLE SERIES, FOSSIL SERIES, ETC. THERE ARE ALSO TOPPS POKEMON CARDS AND EVEN FOUND SOME TOPPS CHROME POKEMON CARDS, THERE WERE MANY HOLO RARES AND RARE POKEMON CARDS WHEN REVIEWING THE STACKS PULLED FROM FLATS - 3 OVERSIZED PROMO CARDS, SOME OTHER PROMOS, SOME 1ST EDITIONS AND OTHER POKEMON INSERTS, ETC. YU-GI-OH CARDS INCLUDES VERY GOOD MIX OF POWER LEVEL CARDS RANGING FROM 1-12 STARS - MANY VERY RARE CARDS DISCOVERED IN SOME OF THE STACKS THAT WERE PULLED, TONS OF HOLOFOIL CARDS AS WELL (WITH THE SHINY STAR-LIKE EMBLEMS IN THE BACKGROUND WHEN HELD IN THE LIGHT) - HOLO CARDS NOTICED IN SEVERAL STACKS THAT WERE PULLED OUT OF FLATS - I'M NOT VERY KNOWLEDGEABLE ON YU-GI-OH CARDS SO NOT SURE WHAT SERIES ARE INCLUDED SOME OTHER CARDS NOTICED IN THE FLATS INCLUDES DUELMASTERS, HARRY POTTER, AMERICAN IDOL, BEAVIS & BUTTHEAD, BATMAN FOREVER METAL, YU-GI-OH HARD PLASTIC CARDS (SEVERAL), POWER RANGERS, DIGIMON CARDS AND DIGIMON METAL CARDS, MAGI NATION, SOME RANDOM HOCKEY/BASEBALL/FOOTBALL SPORTS CARDS, ETC. THERE WILL PROBABLY BE MANY OTHER DIFFERENT SERIES INCLUDED BUT THEY SHOULD BE IN MINOR QUANTITY - AGAIN FLATS NOT SORTED SO DON'T KNOW WHAT IS GOING TO BE IN MOST BUT ALL HAVE TONS OF POKEMON & YU-GI-OH CARDS, WITH SOME OTHER RANDOM ONES INCLUDED CALCULATION OF TOTAL # OF CARDS: I DON'T HAVE THE TIME OR ABILITY TO SIT DOWN AND COUNT ALL CARDS IN THIS VERY LARGE LOT - I'VE ESTIMATED TOTAL CARDS AT 16,000 TO 20,000 WITH IS A VERY GOOD ESTIMATE - CALCULATED APPROXIMATELY 276 TOTAL INCHES IN CARDS STACKED IN THE FLATS OR ABOUT 23' WORTH OF CARDS IN A SINGLE STACK!!
- THIS EXCLUDES THE BOOKS, LOOSE SLEEVES, AND FEW OTHER STACKS PULLED OUT FOR DETAILING BELOW - I PULLED OUT SEVERAL STACKS TO MEASURE HOW TALL THEY WERE, STACKS OF 100 RANGE FROM 1 3/8" TO 1 3/4" IN HEIGHT - THEREFORE CALCULATING OUT THAT'S HOW I GOT THE RANGE I DID - THERE ARE ROUGHLY 750 TOTAL CARDS IN THE BINDERS AND LOOSE SLEEVES NOT COUNTED IN THE ESTIMATED TOTAL!! - MY BEST GUESTIMATE ON THE TOTAL WOULD BE 18,000 BUT COULD BE MORE/LESS!!
- YU-GI-OH PLASTIC CARDS INCLUDING JOEY, RED EYES BLACK DRAGON, YU-GI-OH, HERCULES BEETLE, AND TRISTAN - DIGIMON METAL TIN CARDS INCLUDING GARUDAMON, MACHINEDRAMON, TENTOMON, TOKOMON, IZZY, GARURUMON - POKEMON TOPPS CARDS AND TOPPS CHROME CARDS - TOPPS CHROME CARDS INCLUDES ZUBAT, GROWLITHE, CHARMELEON, MEOWTH, RATTATA, GRIMER, EXEGGUTOR - POKEMON RARES FROM MANY OF THE SERIES, ALSO MANY HOLO RARES - DID SEE A CHARIZARD (NOT 1ST EDITION) BASE 2, BLASTOISE, AND VENUSAUR IN THE LOT, BELIEVE ALL WERE HOLOS BUT CANNOT FIND THEM, OTHERS INCLUDE FERALIGATR HOLO RARE, CROBAT EX HOLO RARE, BLAZIKEN RARE, SCEPTILE RARE, WALREIN HOLO RARE, OVERSIZED PROMO HOLOS OF REGIGIGAS AND DIALGA, RARES AND HOLO RARES IN BINDER INCLUDES HOLO MEW, NINETALES, DARK CHARIZARD, VICTREEBEL, DARK ARBOK, MUK, NIDOQUEEN, DARK WEEZING, DARK GOLBAT, SCYTHER, KABUTOPS, AERODACTYL, DARK MACHAMP, GYRADOS, MISTY'S CLOYSTER, VAPOREON, JOLTEON, RAICHU, ELECTRODE, HYPNO, DARK HYPNO, SABRINA'S ALAKAZAM, WIGGLYTUFF, DARK DRAGONITE, CLEFABLE, ROCKET'S SNORLAX, CHANSEY, ENERGY CHARGE TRAINER, SUPER ENERGY REMOVAL, POKEGEAR, SCOOP UP, PINSIR, MAGNETON, ZAPDOS PROMO, JUMPLUFF, NIDOKING, PIKACHU PROMO, HOUNDOOM, AND MORE THERE ARE TONS OF POKEMON CARDS FROM BASE SET, FOSSIL SET, JUNGLE SET, BASE 2 SET, AND OTHER SETS AS WELL - MAJORITY OF POKEMON CARD STACKS I PULLED INCLUDED CHARACTER CARDS BUT DID FIND SOME ENERGY CARDS AND TRAINER CARDS AS WELL YU-GI-OH HOLOFOIL CARDS WITH MANY HIGH LEVEL ONES INCLUDING: ENDLESS DRAGON WITH BLUE EYES, RED-EYES B DRAGON, PERFECT ULTIMATE GREAT MOTH, NEW MOON DEVIL DRAGON, SUPERIOR DEVIL SWORDSMAN, MILLENIUM SHIELD, SUPERIOR FIGHTER, EIGHT-HEAD DRAGON, SAINT KNIGHT DRAGON, MAGIC HAWK DRAGON SERVANT, DEATH MAGIC DRAGON WOLUSITER, AMAZON ARCHER, EXTINCT SALMON, THE WINGED DRAGON OF RA, WHITE DRAGON WITH BLUE EYE, MIRAGE KNIGHT, GOD-SUMMONING DARK MAGIC MASTER, DARK MONSTER DRAGON, CAROUSI FIGHTER, SUPERIOR DEVIL SWORDSMAN, CARNESIA ELEPHANT, COLD WAVE, BLACK DEMON MASTER, RED EYES BLACK DRAGON, AND MANY MANY MORE LOT INCLUDES THE FOLLOWING ITEMS: - 6 CARDBOARD FLATS FULL OF TRADING CARDS - AS STATED ABOVE MAJORITY ARE POKEMON AND YU-GI-OH CARDS WITH MANY OTHERS MIXED IN AS WELL - POKEMON ADVANCED GENERATION SMALL CARD BOOKS W/ SLEEVES - NO CARDS INSIDE - YELLOW AND RED ONE INCLUDED - THEY HAVE SOME STAINING/WEAR ON THE SURFACE - ORIGINAL POKEMON TRADING CARD BINDERS WITH CARDS/SLEEVES - ONE BOOK INCLUDES ROUGHLY 150+ CARDS AND SLEEVES - OTHER BOOK INCLUDES ROUGHLY 400+ CARDS AND SLEEVES - THERE ARE ANOTHER ROUGHLY 200+ CARDS IN THE LOOSE SLEEVES - BINDERS HAVE SOME TEARS/DAMAGE, SOME STAINING, AND OTHER SIGNS OF WEAR. MASSIVE CARD LOT HAS VARYING SIGNS OF WEAR, STACKS OF CARDS PULLED FROM THE FLATS TO REVIEW SHOWED WEAR INCLUDING LIGHT PLAY, MODERATE PLAY, HEAVY PLAY, AND THERE ARE DAMAGED CARDS AS WELL, SOME CARDS DON'T APPEAR TO HAVE BEEN PLAYED BUT MAY STILL HAVE SOME WEAR FROM STORAGE IN THE FLATS, OVERALL MAJORITY OF THE CARDS WILL HAVE LIGHT EDGE/CORNER WEAR, COLORING WEARING OFF ON BACK SIDE AROUND THE BORDERING, ETC. PLEASE REFER TO ALL PICS IN THE LISTING DESCRIPTION FOR SPECIFICS ON CONDITION, I HAVE TAKEN THE MAXIMUM AMOUNT OF PICTURES POSSIBLE FOR THIS LISTING OF 24, WHICH IS FAR BELOW THE AMOUNT REALLY NEEDED FOR A MASSIVE LISTING OF THIS SIZE, BUT AGAIN CARDS HAVEN'T BEEN SEARCHED, GREAT OPPORTUNITY FOR ANY POKEMON/YU-GI-OH CARD COLLECTORS TO FIND SOME GREAT RARE CARDS!! I DO COMBINE & DISC.
NOTE: TO BEST OF MY KNOWLEDGE THERE ARE NO FAKES OR KNOCK-OFF CARDS IN THE LOT, I'M WAY MORE EXPERIENCED IN POKEMON CARDS AND NOT VERY FAMILIAR WITH YU-GI-OH OR OTHER SERIES THAT ARE INCLUDED, FOR OLDER POKEMON CARDS JUNGLE, BASIC, FOSSIL, ETC. I'VE TAKEN RANDOM CARDS OUT OF THE LOT (PRIOR TO POSTING) AND RIPPED THEM IN TWO FOR BLACK PAPER TEST, BLACK THIN PAPER LINING INSIDE THE CARDS WHICH MEANS THEY ARE REAL AND NOT FAKES, DUE TO MASSIVE VOLUME MAJORITY OF THE CARDS HAVEN'T BEEN CHECKED, REVIEWED, OR INSPECTED AT ALL - THIS IS AN UNSEARCHED, UNSORTED, AND MAJORITY OF THE CARDS HAVEN'T BEEN INSPECTED AT ALL!!! View My Other Items For Sale. Add me to your Favorite Sellers. I WILL WORK WITH YOU TO RESOLVE ANY ISSUES YOU MIGHT HAVE.
Show off your items with Auctiva's Listing Templates. The item "HUGE LOT 16000+ POKEMON & YU-GI-OH TRADING CARDS HOLOS RARES JUNGLE FOSSIL BASE" is in sale since Saturday, February 11, 2017. This item is in the category "Toys & Hobbies\Collectible Card Games\Pokémon Trading Card Game\Pokémon Mixed Card Lots". The seller is "slo23200" and is located in Arnold, Missouri.
This item can be shipped to United States, Canada, United Kingdom, Denmark, Romania, Slovakia, Bulgaria, Czech republic, Finland, Hungary, Latvia, Lithuania, Malta, Estonia, Australia, Greece, Portugal, Cyprus, Slovenia, Japan, Sweden, Taiwan, Thailand, Belgium, France, Hong Kong, Ireland, Netherlands, Poland, Spain, Italy, Germany, Austria, New Zealand, Singapore, Switzerland, Norway, Saudi arabia, Ukraine, United arab emirates, Qatar, Kuwait, Bahrain, Croatia, Malaysia, Colombia, Panama, Jamaica.
Brand: NINTENDO, GAMEFREAK, YU-GI-OH
MPN: Does not apply
Set: BASE SET, BASE SET 2, JUNGLE, FOSSIL, ETC.
Card Condition: LIGHT, MODERATE, HEAVY, AND DAMAGED - MIXED COND.
Language: English
Lot Type: CHARACTER CARDS, RARES, HOLOS, ENERGY, TRAINERS
Lot Size: ESTIMATED 16,000 - 20,000
Features: Holo